Free Picks: Lightning vs. Canadiens, 2021 Stanley Cup Finals

By:
Patrick Trudeau
NHL Free Picks – Best Bets of the Week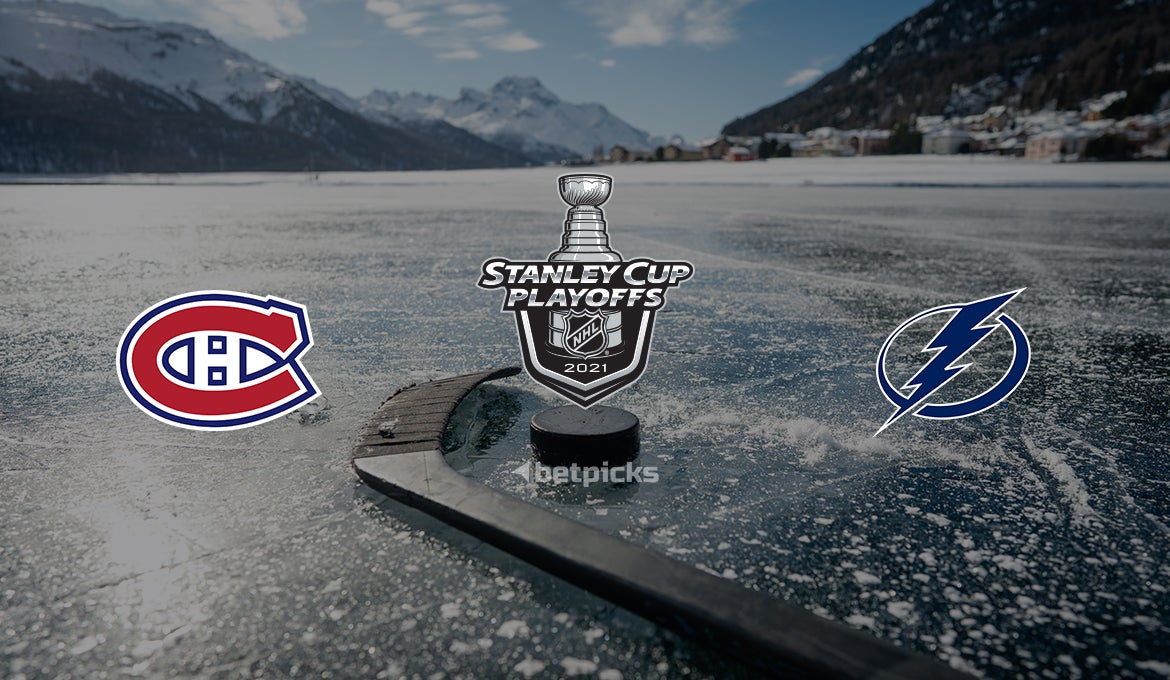 Lightning vs. Canadiens, Finals, Lightnings wins Stanley Cup, 4-1
Favorites to win the Stanley Cup, the Lightning have captured their second straight title, defeating the Montreal Canadiens, 4-1.
Series Results: Lightning wins Stanley Cup, 4-1
Back-to-back!
The Tampa Bay Lightning pulled off the incredible feat, winning consecutive Stanley Cups. The Lightning finished Montreal off with a 1-0 victory in Game 5, securing the win and championship. To no one's surprise, goaltender Andrei Vasilevskiy walked away with the Conn Smythe Trophy, awarded to the best player in the playoffs.
Now, the Lightning turn to a potential 3-peat, something not accomplished since 1980-83 by the New York Islanders. A 3-peat has only happened 5 times in NHL history. Can the Lightning write themselves in the record books one more time?
June 28, 08:00 p.m., Amalie Arena
Who would have thought?
While the Tampa Bay Lightning were Stanley Cup betting favorites from the start, seeing the Montreal Canadiens in this position was unexpected.
It shouldn't come as a surprise to see the Lightning as favorites to win this series, thus winning the Stanley Cup. Tampa Bay is listed at -280 (10Bet) to win this season with two teams remaining.
Of course, the Canadiens have been discredited all playoffs long. Montreal were heavy underdogs in every series they have competed in. Winning the Cup would be the cherry on top for an improbable season.
Switching things over to Game 1, the Canadiens head into enemy territory as the first two games will take place in Tampa Bay.
At home in the playoffs, Tampa Bay are 6-3 and have scored 37 goals, the most of any teams in the postseason. However, Montreal are an impressive 7-2 on the road so far and have scored the most goals away from home in the playoffs.
For this BetPicks Prediction, I think the Lightning will win this straight up. Tampa Bay are listed at -215 and while I recommend that for anyone wanting to bet the Moneyline, I think there is another route I want to go down.
It may be bold, but taking the under 4.5 +142 (10Bet) is my expert NHL pick for this game. Both Tampa Bay and Montreal have had spurts of offensive dominance, but they haven't been high-scoring for the entirety of the playoffs.
While they have the ability to net several goals, these teams are running into the two hottest goaltenders in the postseason. Carey Price has been a brick wall in the blue paint, owning a 2.02 GAA and .934SV%.
Andrei Vasilevskiy has been staggering as well with a .936 SV% and 1.99 GAA. These goalies are two of the best the sport has to offer and I want to ride their successes to a winnable bet with great value.
Tampa Bay is stronger straight up, so take them on the Moneyline, but the under for total goals provides great return!
Game 2 (Lightning lead series 1-0)
June 30, 08:00 p.m., Amalie Arena
Can Montreal bounce back?
Down 1-0 to the Tampa Bay Lightning, there is comfort in the fact that the Canadiens will return home for games 3 and 4. However, Montreal cannot afford to head back to Quebec down 2-0.
Looking back at Game 1, Andrei Vasilevskiy was brilliant as usual. Carey Price didn't necessarily struggle, but he was okay. Not enough to steal a win, however, which means the Canadiens need to battle back in this BetPicks Prediction.
For this NHL prediction, I would suggest focusing on Tampa Bay. I think the Lightning are firing on all cylinders, as evident by game 1. One thing I noticed is that Tampa Bay is spending a lot of time in front of Carey Price. With all the commotion in front of Price, Tampa Bay has generated multiple chances and scoring opportunities with bodies in front of the goal.
This is why I think taking the Lightning goals over 2.5 –170 (10Bet) is your best NHL bet for this contest. Montreal has sizeable defensemen to challenge the Lightning, but I think Tampa Bay is too good offensively.
As for the winner straight up, it's hard not to go with Tampa Bay. The Lightning are favorites at –155 (10Bet) and I think they can take a 2-0 series lead. Montreal is scrappy, but the Lightning held Montreal under 20 shots in Game 1. If Montreal were to steal this series, I think it needs to come from Price in net.
The Canadiens offense has pressured the best defenses in the league, but the Stanley Cup is a different animal. Tampa Bay's defense has stepped up on the grandest stage, and I don't think the Canadiens can match that.
Barring a career performance from Price, expect Tampa Bay to leave Florida up 2-0.
Game 3 (Golden Knights lead series 2-0)
July 2, 08:00 p.m, Bell Centre
It's not time to panic…yet.
While the Montreal Canadiens return home down 2-0 in the Stanley Cup Finals, there is still time to turn this series around. The Tampa Bay Lightning did their job with home-ice advantage and now attempt to break the hearts of Canada in the province of Quebec.
The Lightning are still favorites on the Moneyline at -158 (888Sport) but it's clear that Montreal is closing the gap. Tampa Bay dominated Game 1, but the Canadiens flipped the script in Game 2. While they didn't pull out a victory, it became apparent that this series will come down to the wire.
For this expert NHL pick, I want to wager on total goals for the second period. The current over/under is listed at 1.5 and I think we hammer the over. Watching the Lightning and Canadiens battle head-to-head, a lot of damage has been caused in the second frame.
Five goals have been scored in the second period so far in this series through two games. It's a small sample size, but there hasn't been much scoring in the opening frame, which is why I think taking the over 1.5 goals (2nd period) at -125(Betway) will be your best NHL bet for this contest.
Looking at the outright winner, the Canadiens are underdogs once again but I think they can take Game 3. What I loved about Montreal in Game 2 was their desperation. I know that seems counterproductive, but the Canadiens threw everything towards the net of Tampa Bay.
Once again, Andrei Vasilevskiy stood tall in the blue paint, but eventually, he'll crack. His talents are godly, but the Canadiens are consistently pressuring him. Montreal is also at home so they will have their fans in their corner. I think the Canadiens did a good job creating pressure in Game 2 but were unable to finish.
If they harass Tampa Bay, I see Montreal taking Game 3 at home for this NHL Prediction. If not, the Canadiens will be on the brink of being swept at home.
Game 4 (Lightning lead series 3-0)
July 5, 08:00 p.m., Bell Centre
The Stanley Cup is in the building.
The Tampa Bay Lightning are one win away from keeping Lord Stanley in the state of Florida. While champion repeats aren't necessarily foreign to professional hockey, a dynasty like the present-day Lightning is a sight to witness.
For those dangerous enough to bet on the outright winner, you still can. The Lightning are currently listed at -5000 (10Bet) and the Canadiens are listed at +2500 (10Bet).
I think the biggest factor entering Game 4 will be Carey Price. Price elevated the Canadiens in earlier rounds but hasn't been up to par in the Finals. He hasn't necessarily had any stinkers, but this isn't the same Price that frustrated the Golden Knights, Jets and Maple Leafs.
Looking at this game, my expert NHL pick will be the Lightning puck line. I fully expect Tampa Bay to complete the sweep on Monday. Montreal hasn't played up to snuff and the Lightning are listed at +174 to cover -1.5 (10Bet).
I think this is the perfect combination of probability and value. If Tampa Bay is leading by one goal late, expect the Canadiens to dump their goal for the extra attacker. From there, the Lightning can bury another goal (or two) and ice this game.
My earlier comment spoiled who I think will win this game. Obviously, it's hard to not side with Tampa Bay in Game 4. I thought the Canadiens could battle back in Game 3 after significant progress in Tampa Bay, but Andrei Vasilevskiy is having none of that.
If you are looking at taking the winner straight up, my free NHL pick would be the Tampa Bay Moneyline at -160 (10Bet).
Montreal was an underdog that shocked the sports world. With that being said, I think their Cinderella run comes to an end on Monday.
Game 5 (Lightnings lead series 3-1)
July 7, 08:00 p.m., Amalie Arena
Can the unthinkable happen?
The Montreal Canadiens are still on life support regarding the Stanley Cup Finals. However, they have bought themselves more time as the Canadiens dropped the Lightning in Overtime of Game 4.
Ruining a potential sweep, the series shifts back to Tampa Bay on Wednesday.
The Lightning are still favorites to win this series, which makes sense. Of course, anything can happen, but a 3-1 deficit would need a historical collapse from the defending champions. With that being said, Montreal did come back from a 3-1 series lead earlier in the playoffs.
For this BetPicks Prediction, I want to look back at an earlier pick that resulted in a betting victory. The opening period to a hockey game is paramount to overall success, which is why I want to bet on total goals for the first period.
The current over/under is listed at 1.5 and I think the over 1.5 at +115 (10Bet) will provide great return. I think both teams are starting to crack and offenses are figuring out what's working. In Montreal's case, the Habs went from 2 goals scored in 2 games to 6 goals over Games 3 and 4.
Tampa Bay has been a high-scoring machine throughout the playoffs, which is why I am confident in this free NHL prediction. Historically, the 2nd period has been the highest-scoring period in the series, but I can't pass up the value offered for the total goals in period one.
As for the main event, I think the cup stays in Tampa Bay.  My original prediction was Tampa Bay in 5 and I think the Lightning can close out the series at home.
I fully expected the Lighting to have a 3-1 series lead, but I thought Montreal would win Game 3 and not 4. Either way, the Canadiens are on the brink of elimination and Tampa Bay has maintained their pressure. Home ice is a huge factor in this one and the Lightning are still heavy favorites at –235 (10Bet).
With how Tampa Bay responded to Montreal in Game 4, I think they can battle their way to a win on Wednesday. Montreal has the momentum from an OT win, but the Lightning are back at home.
have always wanted to be a writer and sports are my favorite thing in the world, so I combined the two to make a career. I have been a long-time gambler and sports betting writer that isn't afraid to look at the underdog or specials. I am covering the NHL, MLB and NCAA Football for BetPicks.ca and am a huge fan of both sports - as well as many others. Follow me on Twitter (@Patrick_Trudeau) so we can talk betting, sports, or why ketchup DOES belong on Poutine.
Free Picks: Lightning vs. Canadiens, 2021 Stanley Cup Finals